The Taste of Plant-Based -
no animal gelatin!
Sheroes Gummy Candy

Inspired by women who dream big and pave their own way, Sheroes flavors rock: Peach, Lemon, Orange, Strawberry, and Raspberry with layered Cherry foam. Discover all of our empowering shapes!

Rainbow Gummy Candy

We believe love is love and our rainbow gummies come in a mix of four delicious flavors to celebrate diversity every day: cherry, strawberry, blueberry and orange.

Love & Stars Gummy Candy

As Germans, we're so excited to join the American market, we made passionate red, white & blue gummies for you! Oh say, can you taste all three flavors? Strawberry, orange & cherry!

Sour Gummy Candy

With their perfect balance of sour power and sweet, these gummies come in a mix of five flavors: passion fruit, orange, lime, raspberry and black currant. We're here for it! Let's get tangy!
Say 'jes' to plant based and beyond!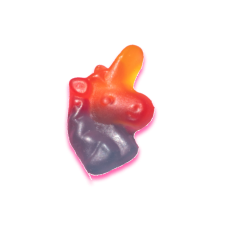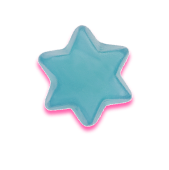 "Could eat bags and bags and bagssss!"

"We LIVE for your plant-based vibes! "

"These are VERY good and the squeezey texture is the same as we have always known gummies to be before going vegan"

"These are the best gummies I've ever tasted. I can't believe how good they are!!"

"Ya'll these are so good Thanks for making a delicious animal gelatin-free gummy so I can enjoy my favorite candy with a little less guilt!"

"Making love to a Katjes plant based gummy and that's our Sunday love song"

"Just bought 6 bags at Walgreens Yum!"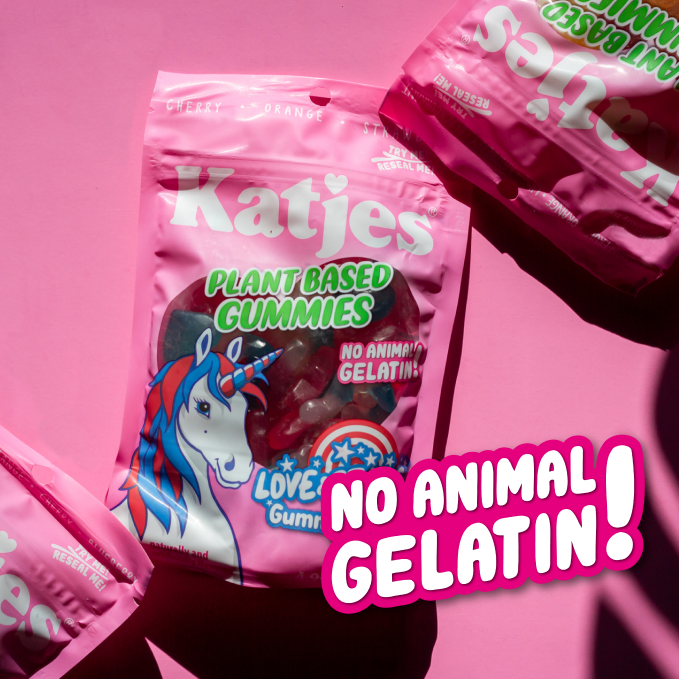 Are Gummies Vegan?
Most gummy candies get their gumminess from gelatin that is derived from pigs or cows. Katjes gelatin-free candy is packed with plant-based ingredients instead, making them a super delicious choice if you're vegetarian*, flexitarian* or on a restriction diet*.
*Contains wheat derived ingredients. Made on equipment that also processes products containing milk and coconut.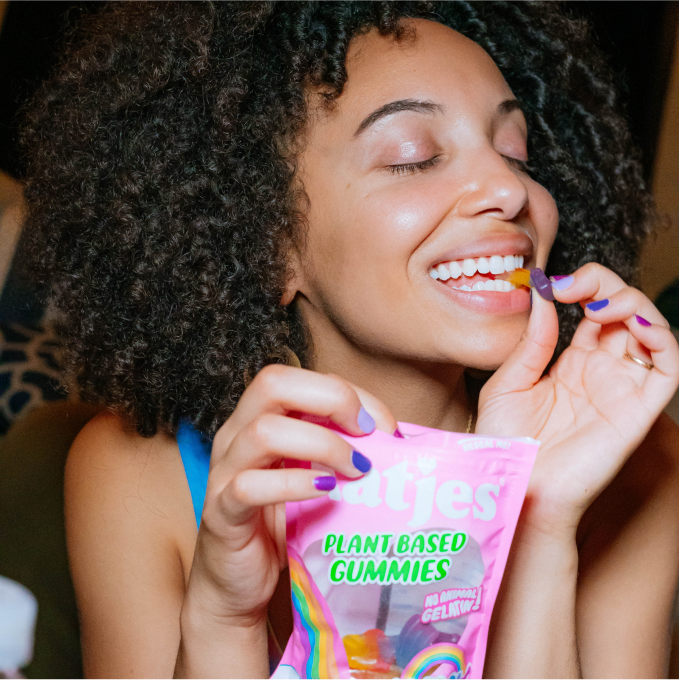 Our Story
Katjes is third-generation family owned and proud to be the world's #1 plant based gummy brand. In 2021 we launched our gummies in the USA, but our story began way back in the 50s when young Klaus Fassin made licorice cats from an age-old family recipe. He called them Katjes, the Dutch word for kittens, because he thought it was good luck. That name and Klaus's spirit of ingenuity and optimism have stayed with us all these years! In German, our brand is pronounced "Kaht yes" - so try our plant-based gummies today and say, "Kaht, yes" to sweet snacking!
Socialize with Katjes. Follow us on Instagram!